Canalway Trail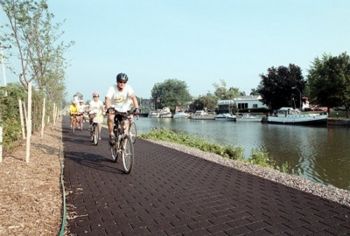 The New York State Canalway Trail and Corridor is a 524-mile recreation trail that connects Albany to Buffalo. The trail is primarily used by walkers, joggers, and bikers, but in certain sections allows horses, and in the winter skiers and snowmobiles. While the trail is entering in its final stages of construction, is currently is made up of mostly of old canal towpaths, abandoned railway beds and occasionally connecting roads.
The Trail
Albany to Syracuse
The trail starts in Albany as part of the Mohawk Hudson Hike-Bike Trail near where the Old Erie Canal once started. It follows this paved trail for its entire length from Albany to Rotterdam Junction. Once here you continue onward to Little Falls and Utica, partially on road, partially not. The trail follows the current Erie Canal from Utica to Rome. Utilizing roads through Rome, the canal passes by Fort Stanwix on its way to the Erie Canal Village and Old Erie Canal State Historic Park. Biking by the Erie Canal Village signals the beginning of a trip back in time. From Rome to Dewitt/Syracuse the canal utilized the former towpath of the largest untouched section of the Old Erie Canal.
Syracuse to Buffalo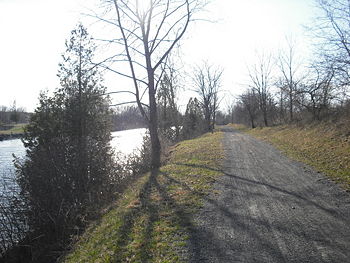 The western end of the Canalway trail starts in Fairmount as there is no trails through Syracuse, only on street cycling. The trail passes the Nine Mile Creek Aqueduct which is currently under rehabilitation. The trail is mostly finished as it passes through most cities of the current Erie Canal (bypasses Rochester) on its way to Lockport. After a couple of road sections the Canalway Trail trail takes one through Tonawanda along Lake Erie to Buffalo.
Champlain Canalway Trail
The Champlain Canalway Trail heads north from Waterford following the Old Champlain Canal. Its a nice shaded stone dust trail with some remains of the former canal still visible.
Camping
There are many camping facilities nearby the Canalway Trail. Find the entire list at NYSCanals.gov.
Select sites from East to West:
Maps
Mohawk Hudson Hike-Bike Trail
Canalway Trail Photos
The parking lot and eastern end of the Canalway Trail.
The sign to follow through town.
A perfectly green surrounding.
A sign from the days of use as a train track (north).
A sign from the days of use as a train track (south).
Remains of the popular High Street Station (east).
Remains of the popular High Street Station (west).
A former railroad bridge is still used to carry the canalway trail over High Street.