Constantia
Constantia is located in on the northern shore of Oneida Lake.
Taft Bay Park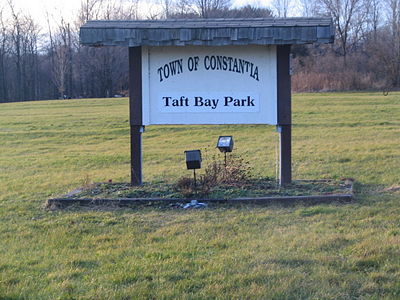 Taft Bay Park offers it visitors many different types of activities. In the summertime, its beach is the main attraction, but it also offers a sand volleyball court, basketball courts, ball fields, concession stand, bathrooms and showers.
Things to do
Swimming
Beach
Basketball Courts
Baseball/Softball Fields
Sand Volleyball Court
War Memorial
Directions
Taft Bay Park is located along State Route 49 in the town of Constantia. Traveling eastbound on Route 49, it will be about 2 miles east of the village of Constantia. Traveling westbound along Route 49, it is about 3 miles past Cleveland, and 1 mile past Bernards Bay. It is located on the lake (Southern) side of the road.
See Also