Enlarged Erie Canal Lock 28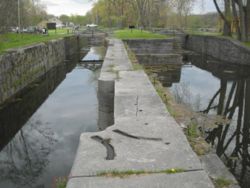 Enlarged Erie Canal Lock 28, also known as the Yankee Hill Lock, is located in Fort Hunter along side the Mohawk River. This lock was built during the first enlargement of the Erie Canal in 1841 and was later improved during the 1880s with a double-length chamber.
Today this lock is one of the better preserved locks from the era and serves as a popular park. On site are three unique attractions, the lock itself, Putman's Culvert and Putman's Lock Grocery. During the summer months a floating dock allows boaters to tie up as well.
Enlarged Erie Canal Lock 28
Enlarged Erie Canal Lock was first built in 1841 to replace the smaller locks on the original Enlarged Erie Canal. The popularity of the Erie Canal during this era created two improvements over time. The first was the second chamber which allowed boats traveling in both directions to pass more quickly. The second was an extension of the southern chamber in the 1880s which lengthened it to twice its original length. This allowed 'double headers' (two canal boats tied together) to lock-through at the same time.
View of the Old Erie Canal Lock 28.
Old Erie Canal Lock 28 Park from the river.
Putman's Culvert
Putman's Culvert allowed the lower waters on the southern side of the Erie Canal to pass under the canal and into the Mohawk River. Technically numbered as Culvert Number 43, the culvert was constructed in the 1840s and is 142 feet long, three feet tall and six feet wide.
Today at the west end of the Enlarged Erie Canal Lock 28 park the northern end of the culvert is visible and still caries waters under the canal.
Putman's Culvert during lower water.
A closeup showing the horizontal wooden supports along with the thin wooden supports.
Putman's Lock Grocery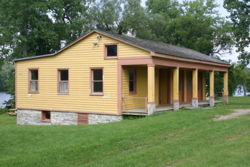 Putman's Lock Grocery was a canalside store that is typical of those found throughout the state during the 1800s. It provided canallers with basic groceries, but also supplies for the mules, rooms, a place to meet and drink. Groceries were typically located near locks because barges were already stopped, and possibly waiting to lock-through.
The building located here is mostly original, though a portion of the building erupted in fire during the 1930s. The eastern end of the building once had a second floor, which was not rebuilt.