Enlarged Erie Canal Lock 29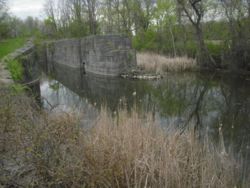 Enlarged Erie Canal Lock 29, also known as the Empire Lock, is located in Fort Hunter about a mile east of Schoharie Creek. This lock was built during the first enlargement of the Erie Canal in and was later improved during the 1880s with a double-length chamber. It was first used in 1845.
The lock is located outside the path of the original canal, which is located nearby. The popularity of the Erie Canal created two improvements over time. The first was the second chamber which allowed boats traveling in both directions to pass more quickly. The second is the southern chamber was lengthened to twice its length to allow two canal boats to lock-through at the same time.
When visiting the lock, notice the large metal bolts that held two spools, now referred to as capstans. These bolts are located at western end of the locks and are now painted red and some are bent. The spools pull barges into and out of the locks. First introduced on the Enlarged Erie Canal, similar capstans now powered by electricity can be found at all modern canal locks.
Tall stone approach walls are still in very good condition throughout the area.
The culvert at the upper (western) end of the lock.
The culvert at the lower (eastern) end of the lock.
Spillway at western end of lock allowed water to overflow.
Stones which formed the lower sill of one of the lock gates.
Bolts which once held hydraulically powered capstans.