Equipment and Supplies
Below is a list of equipment that is recommended that you have on board while cruising the New York State Canal System. These recommendations may be things that you already have aboard your vessel or can gather from a quick trip to a marine store, but they will surely make cruising more enjoyable.
Recommended Equipment (description below):
Two boat hooks
Keep one handy at the bow and the other at the stern when going through locks. You will sometimes need them to grab the drop lines. For example, your boat may stop more than an arms reach from the chamber wall. It may be difficult in windy conditions to hold the boat in a position close enough to the chamber wall to reach out and grab the drop lines by hand. When entering a full lock, the deck of the boat may be too high above the top of the chamber wall to allow you to reach down and grab the drop lines by hand. Usually, there is only one Lock Master staffing each lock and, while they are very helpful, they are sometimes unable to assist you in grabbing the drop lines. You may need a boat hook to do it yourself. A boat hook is also useful for holding on to cleats and rings on the top of the chamber walls, for holding on to the ladders recessed into the chamber walls (a common alternative to using a drop line), and for pushing off the chamber walls.
A pair of gloves for each line handler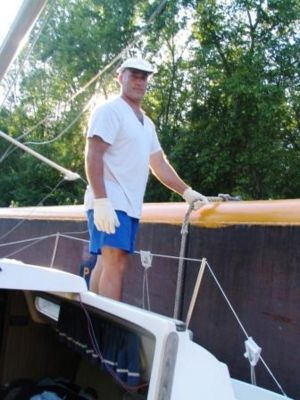 Although boaters are advised not to use their hands to fend off, it is done all the time. If you do it, gloves will keep your hands clean and protect them from being cut by rough surfaces and marine growth on the chamber walls. They will also give you a better grip on the drop lines which are often slick with slime. An example of gloves to use would be latex coated work gloves -- they are waterproof, provide an excellent grip, and are fairly puncture resistant.
A minimum of four dock/mooring lines
At least two of these four lines should be the length of your boat. Most of the locks have weighted drop lines in place so you don't need to use your own lines; you just grab on to the drop lines provided. However, in some locks you will have to loop your line around a fixed drop line or drop pipe (a rigid vertical rod recessed into the chamber wall). Since you need to be prepared to lock through on either side of the chamber, it is advisable to enter with a bow and stern line at the ready on each side of the boat. When mooring at docks or tie-ups along the bank of the canal, you will often need to use at least one spring line in addition to your bow and stern lines.
A minimum of four fenders at least 8" in diameter
Small boats (e.g., runabouts, pontoon boats) may be able to get by with fewer and smaller diameter fenders, but larger boats really need at least four 8" or larger diameter fenders for adequate protection. A 12"-15" buoy/ball type fender at the bow (and stern on sailboats with narrow transoms) compensates for the taper and makes it easier to keep the boat parallel to the chamber wall. Although some boats use fender boards, four fenders per side of smaller boats (up to 25 feet +/-) usually adequate. If you have additional fenders, hang four fenders on each side before entering. This way for those occasions when you do not know which side of the chamber will end up on, you are prepared for either possibility.
Exceptions: (1) The top of the chamber walls at Locks 12-15 were so close to the full waterline I had to double up on my bow fenders -- one just touching the water to protect my hull at the top of the chamber plus another right above it at the hull-deck joint to protect my hull at the bottom of the chamber. (2) The deterioration of the concrete walls in some chambers has left deep concavities which can swallow up a fender. Although fender boards might be better in such locks, hanging additional fenders and/or fending off also works and avoids the hassle of dealing with fender boards.
Good fendering is equally important at the tie-ups along the banks of the canal to protect your boat from the rocking caused by the wakes of passing boats. Given the variations in the condition and height of chamber and tie-up walls and docks, it is important to have a way to quickly adjust the horizontal and vertical position of your fenders.
A VHF radio you can operate from the helm
The lockmasters and lift bridge and guard gate operators monitor Channel 13. When approaching a lock, lift bridge, or guard gate, standard practice is to call the operator/lockmaster on Channel 13 and announce your approach and direction of travel. For example: "Lock 13. Lock 13. Lock 13. This is the (name of your boat) approaching westbound." The lockmaster will respond with instructions for locking through. A VHF radio also makes it easier for canal staff and boaters to exchange other necessary or helpful information. A hand held VHF radio is ideal for this purpose.
Cell Phone
The lockmasters and bridge operators can also be contacted by telephone. Their telephone numbers can be printed from the Index of Locks or can be found in the New York State Canal System "Boater Resource" guide, which is available for the asking at any lock. If a lockmaster or bridge operator is out of VHF range (such as when a bridge operator is in transit between bridges), you can usually reach them by phone.
Electrical Adapters
Some of the tie-ups have only 15 amp outlets; some have only 30 amp outlets; a few have both. If having shore power is important to you, be sure to take the necessary adapters and cables along. If you carry a 50' 30 amp marine ship to shore cable, a 50' 12 guage outdoor extension cord, a 15 amp (male) to 30 amp (female) adapter, and a 30 amp (male) to 15 amp (female) adapter you should cover all possibilities.
Mast supports (for sailboats)
Many sailors support their masts at the bow and stern with supports made of two pieces of lumber joined in the shape of an "X." The mast rests in the crook at the top of the "X" and the legs of the "X" rest on the deck. When this is done, it is important to attach the legs of the support securely to the deck. Otherwise, when the boat rolls in large wakes or waves, it is possible for a leg to jump the toe rail and extend overboard. This sudden loss of support plus the rolling combine to create a risk of losing the mast over the side.
Fuel
Fuel docks are not common (especially in the west section), but they are not rare either. Locations where fuel is available are marked in the "Boater Resources" and other guides. As long as you pay attention to your mileage and fuel levels and plan accordingly, you should be fine. I encountered a couple of sailboats powered by outboards which had to carry extra gas in jerry cans on deck to make it between fuel stops. I also passed two boats which had run out of fuel and heard other stories (such as the one about the lift bridge operator who left a sizable group of boats waiting while he drove into town to get gas for a boat that had run out of fuel). It appears boats using small portable fuel tanks need to be especially careful. Of course, the advantage of portable tanks is that it is possible to stop at almost any town along the canal and carry them to a gas station.
Marine Supplies
There is a West Marine in Buffalo at the west end of the canal and I was told there were good ship's stores at the east end in Troy (actually Cohoes). However, good sources of complete marine supplies are rare in the middle of the canal. For example, I stopped at a couple of marinas looking for an oil filter for my engine before I finally found one at Coopers Marina in Baldwinsville (which had an extensive inventory). If you know you'll need something, you may want to play it safe and get it before you begin your cruise.
Food and Sundry Supplies
Generally, getting other supplies you need will not be a problem. Most of the tie-ups are located at towns and there is at least a convenience store within walking distance. The walk to the business area tends to be longer on the east end of the canal, where the tie-ups are more likely to be located on the outskirts of town. Keep in mind that many of the businesses are not open in the evenings and on Sundays.
Quarters
Keep a supply of quarters on hand. The coin-operated pumpouts take quarters. So do the coin-operated shore power outlets at the Newark tie-up ($.25 for 2 hours of shore power). And the washers and dryers at laundromats (except at the Newark tie-up where use of the washer and dryer is free). I decided to do my laundry while docked at one town. I walked to the business area and found the laundromat but discovered it did not have a change machine. I went to the business next door and asked for change but was told they did not make change. I went to a second business and was told the same thing. I then went to a convenience store and bought a candy bar which I paid for with a $5 bill and asked for my change in quarters.
Internet Access List
Knowing where you can obtain internet access may or may not be important to you, and thus this may not apply to everyone. Internet access can be obtianed in a few ways.
First is the few locations that have internet access at the dock or welcome center. Having internet (Wi-Fi or otherwise) at the dock (be it a marina or public wall) may be important to some, and thus may want to plan ahead for these.
Public libraries have computers available and this is probably the most reliable method. Almost every major town along the canal has a public library, and thus this is the most popular category. Some may require membership, but joining is simply a matter of filling out some paperwork and, in my experience, the library staff were very friendly and accommodating and it didn't matter that I was from out-of-state.
Lastly is to find a restaurant or other establishment that offers internet to its patrons such as a cafe.