Erie Canal Boating
Boating on the Erie Canal is a diverse experience that changes dramatically as you pass from the Hudson River to Lake Erie. Beginning on the Hudson River the route passes by Albany, the state capital, with many buildings towering over the waterway. The route continues past Troy and onto the first lock, operated by the Army Corps of Engineers. Waterford is the fist stop on the canal and home to the Waterford flight of locks, a series of five locks raising boats up to the Mohawk River. There is no stopping within the flight. Waterford is a nice little town with a free town wall, including power, water, restrooms, and more.
From here the canal follows the Mohawk River to Rome, where it then traverses to Oneida Lake and the Oneida River. At Three Rivers (the junction between the Oneida River, Seneca River and Oswego River), the decision needs to be made whether to travel west to Buffalo or north to Oswego (via the Oswego Canal). The westward route follows Seneca River before branching into a lengthy artificial channel past Rochester to Lockport. At Lockport the canal overcome the Niagara Escarpment in grand fashion before continuing on to Tonawanda, the Niagara River, and finally Lake Erie.
Locking Through
Boaters are often anxious about locking through. This anxiety is quickly lost after a few lockings, but a full description of how to lock through can be found on the Locking Through page.
Special Considerations for Sailboats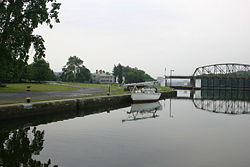 Sailing the Erie Canal requires masts to be laid on deck (or shipped ahead) due to the bridge and other overhead objects. There are multiple options to have your mast stepped (raised or lowered) at each entry point as listed below. Furthermore a sailor needs to keep in mind the difficulty of motoring a sailboat on rivers and moving water in close proximity to the shore and other objects. To add further difficulty a mast on deck adds many feet to the front and rear of the boat. When pricing for mast service, be sure to ask if there are any extra fees such as for a cradle, radar dome, etc. so you are not surprised by the bill.
Eastern End (Albany)

Castleton Boat Club, Castleton on the Hudson, NY; 518-732-7077 --- Note: Do it yourself gin pole.
Hop-O-Nose Marine, Catskill, NY; 518-943-4640
Riverview Marine Service Inc., Catskill, NY; 518-943-5311 --- Note: Cannot service catamarans, must fit in slip to reach crane.
Western End (Buffalo)

Wardell Boat Yard, North Tonawanda, NY; 716-692-9428
Smith Boys Inc., North Tonawanda, NY; 716-695-3472
Rich Marine Sales, Inc., Buffalo, NY; 716-873-4060
RCR Yachts, Buffalo, NY; 716-856-6314
Please send your experience and any tips for whichever marina you use to [email protected] Thank you. -Greg
Free Public Walls along the Erie Canal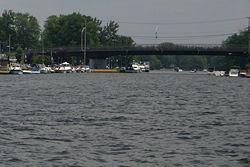 Most terminal walls and some lock approach walls owned by the NYS Canal Corporation are free to use for 48 hours in a month, regardless if additional services are provided. Some communities have improved their terminal walls with power, water, restrooms, etc. and have elected to charge a nominal fee for the service. If you do not use these additional services, you are not required to pay for them (except at a few locations, ex: Gateway Harbor). Below is a list of places which do NOT charge for BOTH docking and services. Note that this list is believed to be correct, but please check upon your arrival that services are in fact free. Please email [email protected] with any updates.
Waterford to Three Rivers (East to West)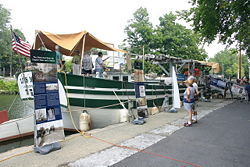 Three Rivers to Lake Erie (East to West)