How to Lock Through
For those accustomed to boating on open waters such as oceans, lakes and large rivers, boating on the canal has a few unique considerations that need to be addressed. First is the obvious: canal locks. Most boaters have never transited a canal lock, but rest easy as we will cover locking through in detail momentarily. Second to consider is the need to constantly rely on channel markers and other aids to prevent grounding. The canal is mostly channelized river, which means that venturing away from the channel may lead you into trouble quickly; there is usually not a smooth transition from deep to shallow water found on natural bodies of water. Thirdly is to be aware of flowing and fluctuating of water levels. Moving water complicates navigation, especially around docks and canal walls. Also docking at fixed walls can be challenging as fluctuations of a few inches is normal and over a foot is not uncommon with severe storms. Proper spring lines with sufficient slack should be used at all walls.
Locking Through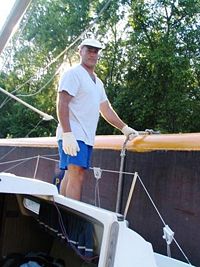 Locking through can seem like a daunting task for the unknowing, but after a few locks, you will gain confidence, and it will become as easy as docking. The following are a few simple steps that you should be aware of.
Being Prepared:

Before approaching a lock there are a few things that you should have ready. Each person on board should have a pair of gloves, as well as your boat should have fenders every 7-10 feet. Mooring lines are should also be readily available to help control the boat once inside the lock. PDFs are suggested, especially for anyone inexperienced with locking through.

Approaching the Lock:

When approaching the lock, you should call ahead (Marine Radio Channel 13) to the lock master to let him or her know that you are approaching. A sample call would be: Lock 5; Lock 5; This is [vessel name or vessel description] approaching northbound requesting lockage. Then wait for a response; the lock master will instruct you on the current state of the lock and expected time to entrance.
If a response is not heard within 2-4 minutes, try again. Lock masters are responsible for many tasks and he or she may not have heard your request due a operation of a mower, etc. Calling ahead saves time by allowing the lock master to have the lock open for you. If the lock is not ready for you, or you cannot contact the lock master via the radio or phone, then look for the Stop Here sign along the approach wall and temporarily tie up.
Once the lock is ready, the light will go from red to green. Only when it is green should you approach, even if the lock is open.

Entering the lock:

Enter the lock slowly, and pull all the way to the front of the lock so other boats can enter, even if there are no boats visible behind you as they might be just around the bend. Use both sides of the lock if necessary. Once inside, find the mooring lines and grab onto them firmly. The lock master will close the door and begin to fill/empty the chamber shortly. Depending on the lock, there may be a lot of turbulence within the lock. Proper preparation will help you manage your craft efficiently.

Exiting the lock:

Once the lock has completely filled/unfilled the lock doors with open and you may exit. Exit slowly, waiting for the crafts ahead of you to exit first. Once through and away from the lock and mooring wall, you may regain channel speed and continue your cruise.
Caution: Navigating around certain locks can be dangerous due to increased currents and dams. Stay in the clearly marked channels, and never approach a dam from the upstream or downstream side. Also, say clear of locks during operation, they also produce increased currents while filling and emptying.
See Also