Hudson River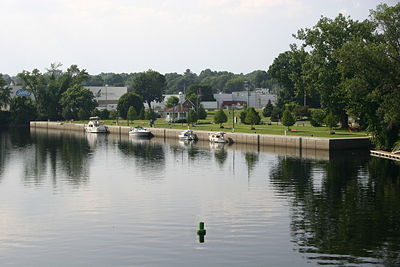 The Lower Hudson River is a long estuary approximately 150 miles long and is named after Henry Hudson, an Englishman sailing for the Dutch East India Company, who explored it in 1609 as far north as Halfmoon, before turning around due to rapids. At that time the river was named the North River, and near New York City the river is often referred to by this traditional name.
The Hudson River was an important part of the western highway during the early 19th century. Tons of goods traveled from the west along the Erie Canal or south down the Champlain Canal to the Hudson River where it was brought to market in New York City.
The Hudson River is the gateway to the New York State Barge Canal System, and the great lakes. It originates in the High Peaks Region of the Adirondack Mountains and continuing down to the Atlantic Ocean at New York City. It is navigable for the recreational boater from New York City to Fort Edward where the Champlain Canal diverges from the river to head for Lake Champlain.
Amazingly the river stays at sea level all the way to Troy (just north of Albany) where boaters encounter the Troy Federal Lock. Once raised about 15 feet boaters are out of tidal waters and continue northbound about five miles to the junction of the Erie and Champlain Canal. Boaters choosing the Erie Canal leave the Hudson river and enter the Flight of Locks and the Mohawk River. Boaters choosing the Champlain Canal remain on the Hudson River for another 30 miles and 6 more locks. Once north of the Troy Federal Lock, the Hudson is relatively narrow and mostly lined with houses. This is in contrast to the southern sections of the river which are very wide and in some sections surrounded with large undeveloped wilderness.
Towns along the Hudson River
See Also