Jordan
Jordan is located just south of Cross Lake on the western end of the Erie Canal. Jordan was formed on the banks of the former Erie Canal which used to run though the center of town. Unfortunately the modern Erie Canal used the Seneca River as a base which is located just north of town. There is no good access via boat.
Erie Canal Celebration & Village Wide Yard Sales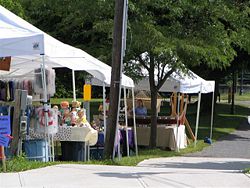 The Village of Jordan will hosts the Annual Erie Canal Celebration & Village Wide Yard Sales in Jordan is held in July.
Celebrating the original Erie Canal while promoting local businesses and organizations this event offers families from around Central New York a fun, entertaining, educational and affordable way to spend the day together.
Enjoy the Jordan Museum Open House, Syracuse Symphony String Quartet, MaxMan Live Reptiles, The Jordan Outdoor Historical Gallery Phase 1 dedication, Masons Child Identification Program, arts & crafts, John Rogers the Blue Bird expert presentation All About Blue Birds and more, Erie Canal Cloggers demonstrations, Alpacas & alpaca products, all kinds of food, Antique Bazaar, Yard Sales all around the village, live music including Ryan Badman Accordionist-At-Large, hayrides, pre-tag your Christmas tree, Coastie, the boating safety boat, Towpath Tales book signing, moonwalks for the children and much more. The Best Curb Side Appeal Contest for residents will help get the village spruced up for visitors. Cash prizes will be awarded after the mural dedication.
The Jordan Outdoor Historical Gallery Phase 1 mural dedication will take place at the Veterans Memorial Park located on North Main Street. The Phase 1 mural depicts scenes in Jordan during the original Erie Canal Era offering viewers an education about mules/boats passing along the canal, canalers and mules coexisting on canal boats and some canal laws. Jordan will now be listed on Mural Mania, a growing state wide art gallery which will eventually span the length of the NYS Canal System. With the Jordan mural Mural Mania will span 50 miles.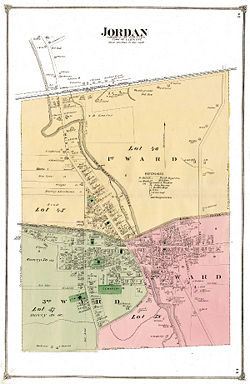 "The Preservation of History through Community Art" is what Mural Mania is all about. The Celebration will take place around the Village Center as well as along the Canalway Trail and of course the yard sales will be all around the village.
There is no admission charge and all parking is free. This is a family event and alcohol free.
A short drive from anywhere in Central New York the Erie Canal Celebration & Village Wide Yard Sales in Jordan promises to offer an affordable and exciting way to spend the day with your family.
Visit Jordan for the day and experience music, history, excitement and great food!
Visit www.JordanNY.com to follow the complete schedule as it continues to grow.
If you'd like more information about this topic or to schedule an interview with Maureen Doyle please contact Maureen @ 315.730.7498 or email Maureen at [email protected]
Nearby Marinas