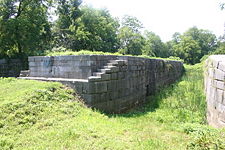 Get out and explore over 200 years of canals that built New York and the nation.
The immediate success of the Erie Canal in 1825 started a canal building frenzy which would shape New York into the Empire State. Now almost two hundred years later there is much to see and do across the state for everyone. For the boater there is the current Erie, Oswego, Champlain and Cayuga-Seneca Canals to explore. For the festival enthusiast there are dozens of events across the state celebrating each towns' history and the importance of the canals. For the history lover there are many canal museums and parks preserving the past for years to come. And for the explorer, there are many things that have been lost to the past and are waiting to be re-found and cherished for years to come.
Boating on the Erie, Oswego, Champlain and Cayuga-Seneca Canals
The Current New York State Canal System, formerly referred to as the Barge Canal, connects all the major waterways in and around New York State. The canals connect the Hudson River, Lake Ontario, Lake Erie, Lake Champlain, Oneida Lake the Finger Lakes and many other areas around New York State. While on a cruise through New York, boaters are treated to the great hospitality that the New York State Canal System is known for.
In the recent years as commercial traffic has turned towards truck, rail and ships, but the canal has reinvented itself as a destination for the recreational boater. The Canal Cooperation has spent hundreds of millions of dollars on reviving the canal-side towns that once were prosperous from passing commercial barges, they are opening up their town docks and walls to recreational boaters, with many providing free docking, and a good percentage with power, water and other services. This effort has made the canal a world class destination for a short weekend getaway or an entire vacation.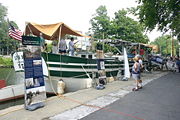 Rich History: A State Built by Canals
The Erie Canal is often the first canal that comes to mind when one thinks of the canals across New York, but it is only one of the more than thirty navigable canals that were built across New York in the past 280 years. The first canal, dug on the Mohawk River near Utica, dates back to 1730 ([1]), 95 years before the Erie Canal and 58 years before New York joined the Union!
The Little Falls Canal, opened in 1795, was the first major canal and started the groundwork for the Rome Canal and eventually the Erie Canal. Following the lead of the major success of the Erie Canal, residents from across the state petitioned the state to build a canal in their neck of the woods. Nearly all of today's major cities and villages across the state once had a canal through it which would connect to the Erie Canal and the world, or was directly benefited by such canals.
Explore by Boat, Bike, Car or Foot
Exploring the waterways of New York means many things to different people, but the canals of New York will leave no one disappointed. For those looking for a controlled experience, there are many museums and parks across the state to guide one through history and adventure. For those looking for an off the beaten path adventure, there are many sites that have been forgotten about and are waiting to be rediscovered.
Weather you are travelling by boat on one of the remaining canals, peddling on one of the many bike trails that crosses the state such as the Canalway Trail or just taking an afternoon adventure by car or foot, you will find something that sparks your interest.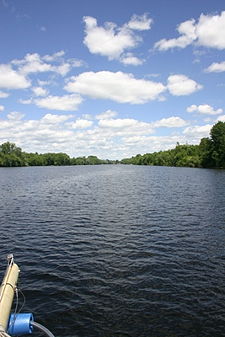 Activities, Festivals & Music
Nearly all summer long and in every town along the entire canal system communities celebrate their heritage through festivals. These offer something for everyone, from boat rides to craft fairs and music to fireworks. See the Annual Canal Events page for festivals near you.
The canal also lives on today in popular songs that were once sung by canal digger and boaters. The most famous song is the Erie Canal Song Low Bridge and is sung by thousands of students across New York every year in classrooms and school performances. The song was written just as modern metal tugs were replacing the mule drawn wooden barges of the past.
2016 Boating Season Information
The canal boating season runs roughly from May 1st though November 15th annually, weather permitting. A detailed time of when locks and lift bridges are operated is given below:
| 2016 Dates | Lock Times |
| --- | --- |
| April 27 to May 25 | 7:00 AM to 5:00 PM |
| May 26 to September 7 | 8:00 AM to 6:00 PM |
| | (Additional hours below for certain locks) |
| September 8 to November 20 | 7:00 AM to 5:00 PM |
| November 21 - April 30 | Closed |
In addition to the schedule listed above, the following locks will operate from 7:00am to 10:00pm from May 26 to September 7:
2016 Extended Lock Hours
7:00am to 10:00pm • May 23 to September 11
Lock C-1
Halfmoon
Lock E-7
Niskayuna
Lock E-23
Brewerton
Lock O-1
Phoenix
Lock O-2
Fulton
Lock O-3
Fulton
Lock E-24
Baldwinsville
Main Street Lift Bridge
Fairport
Lock E-32
Pittsford
Lock E-33
Henrietta
Spencerport Lift Bridge
Adams Basin Lift Bridge
Park Avenue Lift Bridge
Brockport
Main Street Lift Bridge
Brockport
Holley Lift Bridge
Hulberton Lift Bridge
Ingersoll Street Lift Bridge
Albion
Main Street Lift Bridge
Albion
Eagle Harbor Lift Bridge
Knowlesville Lift Bridge
Medina Lift Bridge
Middleport Lift Bridge
Gasport Lift Bridge
Exchange Street Lift Bridge
Lockport
Lock E-34/35
Lockport
Lock CS-1
Cayuga
Lock CS-2/3
Seneca Falls
Lock CS-4
Waterloo
A canal pass is required to transverse the locks and lift bridges. The price of the pass is determined by the duration of the pass (two-day, ten-day or full season) and the size of your vessel. Kayaks, canoes, and other similarly powered craft navigate the canal free of charge, and do not require a pass. The fee structure is as follows:
| Vessel Length | Two-Day Pass | Ten-Day Pass | Seasonal Pass |
| --- | --- | --- | --- |
| Under 16 ft. | $5.00 | $12.50 | $25.00 |
| 16 ft. – 25 ft. | $10.00 | $25.00 | $50.00 |
| 26 ft. – 39 ft. | $15.00 | $37.50 | $75.00 |
| Over 39 ft. | $20.00 | $50.00 | $100.00 |
For the latest canal conditions and notice to mariners, call 1-800-4CANAL4. Also, to contact any lock use marine radio channel 13 (preferred) or find their phone numbers here. Times subject to change at anytime by the New York State Canal Corporation.