Original Erie Canal Guard Lock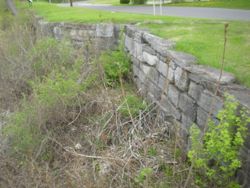 The Original Erie Canal Guard Lock located at the junction of the Original Erie Canal and the Schoharie Creek is one of the few remaining structures dating to the Original Erie Canal Era. The guard lock protected the canal bed in times of high water while still allowing boats to cross the creek. The guard lock was build during the original canal construction (1817-1825) and opened in 1822.
The guard lock doors were normally kept in the open position, but were closed in times of high water. At this site, canal boats were first winched across with a rope, and later pulled normally by mules on a newly constructed bridge.
In 1845 the Enlarged Erie Canal was opened a few hundred yards to the south and utilized the Schoharie Creek Aqueduct. This made the guard lock unnecessary for boat traffic, but this stretch of the canal was still used as a feeder canal for the new canal.
Today, thanks in large part to its use in the Enlarged Erie Canal, the guard lock remains. The chamber has been filled in, but the stones are still present. The western chamber end is slightly higher, to control against floods.
Western end of the guard lock.