Original Erie Canal Lock 20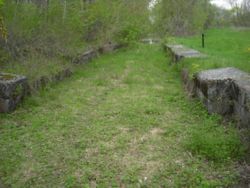 Original Erie Canal Lock 20 is one of the very few original locks that are still in existence, much less accessible. Lock 20 dates back to the original 1817-1825 construction and was first used in 1822. Standing in the filled in small chamber makes you notice how small the original canal was. The chamber was only 15-feet by 90-feet chamber, much smaller than today's 45-foot by 328-foot chamber. This lock lifted and lowered boat six feet.
Following the construction of the Enlarged Erie Canal, which rerouted canal traffic to the north a few dozen feet, Lock 20 and the canal bed between the Schoharie Creek and nearby canal junction became a feeder canal. The feeder canal pulled water in from the Schoharie Creek and filled provided plenty of water for this section of the canal.
The use as a feeder canal surely played a critical role in why the lock is still in existence today. Nearly every other lock of the era was not so fortunate and now is but a memory. Sadly, in recent times the chamber walls began to lean inward. To prevent the collapse of the lock, the chamber was filled with gravel. This gravel and the desire to preserve this unique lock should provide visitors with a glimpse into early canal life for centuries to come.
Westward view of original canal bed from Lock 20.
View east within the chamber. Note the bowed chamber wall (right).