Sylvan Beach
Sylvan Beach Facts

Oneida Lake in the evening on a fall day. From Sylvan Beach picnic area.
Location:
Erie Canal
Website:
sylvanbeachny.com
NYS guide:
Page E-42
Town east:
Rome (15 miles)
Town west:
Brewerton (21 miles)
Lock east:
Lock E22 (5 miles)
Lock west:
Lock E23 (24 miles)
Docking:
Northern and southern side of the canal.
Restrooms:
Beach bathhouse (daytime)
Showers:
Beach bathhouse (daytime)
Laundry:
Laundromat (short walk).
Fuel:
Gas and Diesel
Trash:
Small quantities of garbage.
Sylvan Beach and Verona Beach are located in Central New York on the eastern end of Oneida Lake, Sylvan Beach to the north, Verona Beach to the south. Together they are a summer tourist area, and open there arms to the canal enthusiast. There has a very large canal wall that accommodates dozens and dozens of boats.
Sylvan Beach and Verona Beach historically has been on the east-west water route between the Hudson River and Lake Ontario. Prior to the Erie Canal of 1825, all boat traffic came up the Mohawk River to Rome, then down Wood Creek to Oneida Lake at Sylvan Beach. Wood Creek was once thought of in high regard, similar to the Mohawk River, Oneida River and Oswego River. Today most people do not even know of Wood Creek, but it was the original reason Sylvan Beach and Verona Beach was settled. Historic icons like George Washington came through Wood Creek, and hence Sylvan Beach and Verona Beach.
The Erie Canal bypassed Oneida Lake to the south and the area went without canal traffic. That changed when the Oneida Lake Canal was built. This connected the Erie Canal with Wood Creek and then the Oneida Lake. This once again helped the area prosper, but this canal was closed in relatively short time, and eventually relocated to South Bay. This New Oneida Lake Canal failed miserably and then all boat traffic utilized the Oneida River Improvement, hindering the area.
Finally in 1903, the Barge Canal Act was passed and the Modern Erie Barge Canal now passes through Sylvan Beach. This has helped create the area as a tourist area. It also largely changed the landscape. It created two breakwaters (one now removed), terminal wall, and straighted Wood Creek into its current form. It created the large sand mounds on the southern end of the Erie Canal. This area was once very flat, and the creek snaked through the area.
From the canal wall one can walk to many different restaurants, the beach, the grocery store, post office, and more.
Amenities

Groceries can be found at the Dollar Genear about .75 miles north on Main St.


Numerous Marinas located nearby with facilities.


No trails, but plenty of things to see as ones walks around town. Nearby Verona Beach State Park offers longer scenic hiking and biking trails.


A small park between the canal and beach for picnicking and playing.


Sylvan Beach is only a short walk away. Verona Beach State Park is south .75 miles.


1404 Main St., A medium walk or a quick bike north up Main St.

Sylvan Beach Picnic Area
Sylvan Beach offers numerous activities for local people as well as tourists. This picnic area has two parts to it, one that allows pets, and one that does not. It has a paved walkway along the lake with benches to stop and enjoy the water.
Things To Do
Picnic
Enjoy Sunsets
Photography
Take a break from the beach or canal
Weekly Events
Sylvan Beach offers many different weekly events throughout the summer, which means there is always something to do in Sylvan Beach.

Tuesdays are biker nights, 'Bikes at the Beach', where hundreds of bikers come into town. Take a walk down Main Street to see them all lined up.
Wednesdays are music nights, where a band plays in the gazebo in the park near Eddies Restaurant. Different music played each week, bring your lawn chair!
Thursdays are classic car nights, 'Classic Car Cruise Night @ 6pm', where hundreds of cars cruise into Sylvan Beach to be put on display at the main parking lot between the beach and canal.
Annual Events
Below is a few of the annual events held each year in Sylvan Beach, and each year is a little different.

4th of July Fireworks is an annual tradition. Usually held the last day of the holiday weekend, the fireworks are launched over the water from the beach's bathhouse area. Plan to get there early (by boat or foot) as this popular event gets very busy. If traveling by boat, make sure you have an anchor, working lights and a spotlight.
Vettes at The Beach Corvette Show is an annual event which hundreds of Corvette owners, up to nearly 500, bring their prized cars to the beach to show. Parked in the park at the center of town, it makes for an great day of walking in the shade of the trees. Just make sure you have enough time to see them all!
Canal Fest is an annual event held in early August which includes entertainment throughout the weekend. Crafters, Vendors, Entertainment in the Village Bandstand, Classic Cars in the Village Park, fireworks and more!
Directions to beach
From south (Verona Beach): Once you go over the bridge on State Route 13, take your first right and follow that all the way until you come to a stop sign, and go straight and park in the parking lot.
From North: Take State Route 13 into Sylvan Beach, and just before you go over the bridge take a right onto the side road (Bridge St). Go straight through the stop sign and go all the way to the end and find a parking spot along the road or in the parking lot.
Verona Beach State Park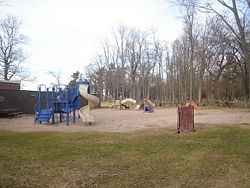 Verona Beach State Park is located on the eastern shore of Oneida Lake. The park is northwest of the City of Oneida and south of Sylvan Beach. Oneida Creek enters the lake south of the park.
The park offers a beach, a playground, picnic tables and pavilions, hiking and biking, a bridle path, a nature trail, fishing and ice-fishing, a campground with lakeside tent and trailer campsites, cross-country skiing and snowmobiling. There is a diverse wetland habitat and is a perfect spot to "get away from it all."
The park, set on 1,700 acres along the east shore of Oneida Lake, offers swimming, picnicking and camping. Operated by the Central Region, New York State Office of Parks, Recreation and Historic Preservation, the facility celebrates its 50th anniversary this year.
The park offers three-quarters of a mile of supervised beach, bathhouse, concession stand, two pavilions, seven tents which are rented on weekends for larger gatherings, 45 campsites with a recreation building and numerous picnic sites. For more active visitors, there are four miles of nature trails for hiking and eight miles of horseback/mountain bike trails which convert into cross country ski trails during the winter.
Special events are frequently scheduled.An arts and crafts fair will take place Aug. 9-10, along with a reunion of former park employees on Aug. 10. The annual "Frog Fest", a country music concert sponsored by WFRG-104-FM radio on Father's Day in the park, attracts between 12,000 and 15,000.
The park is open for daily use through Labor Day, after which only the campgrounds are open through Columbus Day in October. Daily use fee is $5 per car. The beach is open from 10:30 a.m. to 7:30 p.m. daily. While there, don't forget to take a walk or bike right across State Route 13 to its miles of trails.
Things To Do
Swim
Campground Style Camping
Walk
Bike
Playgrounds
Picnic
Fish
More!
Directions to Verona Beach State Park
From the NYS Thruway, take exit 34 and go on State Route 13 North. Take this until you reach Verona Beach, continue past the intersection of Route 31 and take a left turn into the park at the next light.
From the North: Take Route 13 south through Sylvan Beach and over the bridge into Verona Beach. Take a right at the light into the park. There are also signs along the way.
Marinas of Sylvan Beach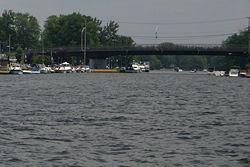 Snug Harbor, Route 13, Verona Beach, NY 13162, (315) 762-5104
Lone Pine Marina & Campground, 600 16th Ave., PO Box 501, Sylvan Beach, NY 13157, (315) 762-5544
Hughes Harbor, RD 4 Box 293 Route 31, Canastota, NY 13032, (315) 697-9484
Skinner's Harbor, PO Box 504, Pioneer Ave, Sylvan Beach, NY 13157, (315) 762-0112
Holmes Marina, PO Box 174, Verona Beach, NY 13403, (315) 762-4232
Callahan's Marina, Route 31 RR 4 Box 298, Canastota, NY 13032, (315) 697-7470
Oneida Lake Marina, RD 4, Box 265, Rt. 31, Canastota, NY 13032, (315) 762-4865
Johnny's Pier 31, RD 4, Box 286, Canastota, NY 13032, (315) 697-7007
Lakeport Marina Inc., 2025 State Route 31, Chittenango, NY 13037, (315) 633-8153
Marion Manor, RD 4, Box 230, Canastota, NY 13032, (315) 762-4810
Fisher Bay Marina, PO Box 537, Bridgeport, NY 13030, (315) 633-9657
Anchorage Marina, PO Box 8, Bridgeport, NY 13030, (315) 699-2978
Sylvan Beach Photos
The pier that protects the canal from the large waves of
Oneida Lake
.
Looking West from the terminal wall. The wall extents out to where the shore meets the lake.
The Crazy Clam Restaurant and Bar is less than 40 feet away!
Canal View Restaurant is less than 40 feet away!
Ducks are a common sight around the canal wall.
Construction of the Sylvan Beach Terminal Wall (1907).
An early postcard of the outlet of Wood Creek into Oneida Lake.